10.6.22 | 5:00pm - 6:00pm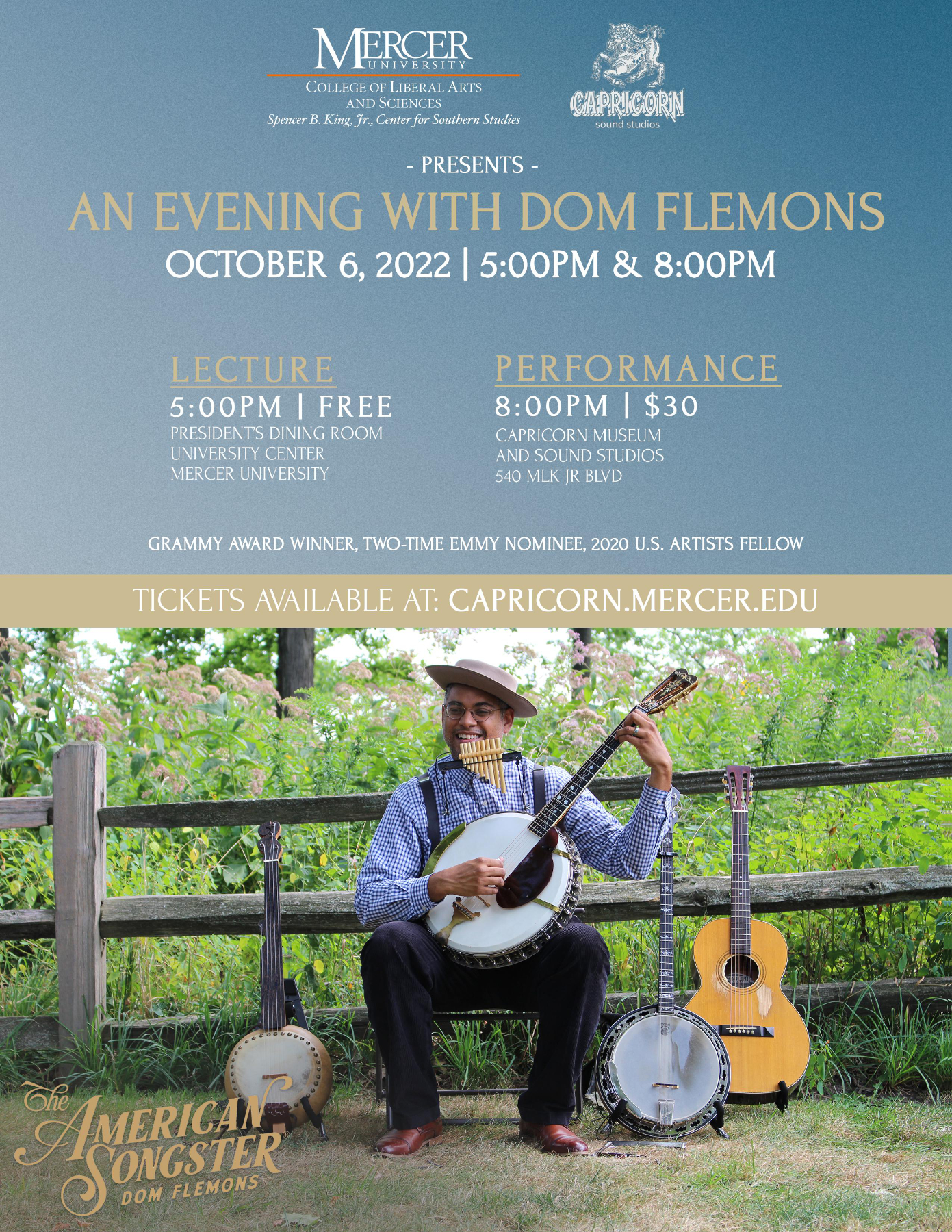 Dom Flemons is originally from Phoenix, Arizona, and currently lives in the Chicago area with his family. He has branded the moniker The American Songster® since his repertoire of music covers over 100 years of early American popular music.
Flemons — a Grammy award winner and two-time Emmy nominee — is a songwriter, multi-instrumentalist, producer, actor, slam poet, music scholar, historian and record collector. He is considered an expert player on the banjo, guitar, harmonica, jug, percussion, quills, fife and rhythm bones. Flemons was selected for the prestigious 2020 U.S. Artists Fellowship Award for the Traditional Arts category, which was generously supported by The Andrew W. Mellon Foundation.
In 2020, Dom Flemons re-issued his album titled "Prospect Hill: The American Songster Omnibus" on Omnivore Recordings. The two-CD album features three parts: The original Prospect Hill album, the 2015 EP "What Got Over" and "The Drum Major Instinct" which includes 12 previously unissued instrumental tracks. His original song "I Can't Do It Anymore" was released on a limited edition wax cylinder recording.
Recently, he released a cover of the Elmore James classic "Shake Your Money Maker," recorded at Sun Studio in Memphis, Tennessee, alongside Rev. Peyton's Big Damn Band and featured guest, legendary guitarist Steve Cropper. He played his six-string banjo (Big Head Joe), quills and bones on Tyler Childers groundbreaking album "Long Violent History" and played jug alongside Brandford Marsalis on the soundtrack to "Ma Rainey's Black Bottom" on Netflix.
Flemons currently serves on the Board of Directors for the Steve Martin Banjo Prize and Music Maker Relief Foundation and is a governor on the Board of Directors for the Washington, D.C., chapter of the Recording Academy.