1.18.22 | 6:00pm - 7:30pm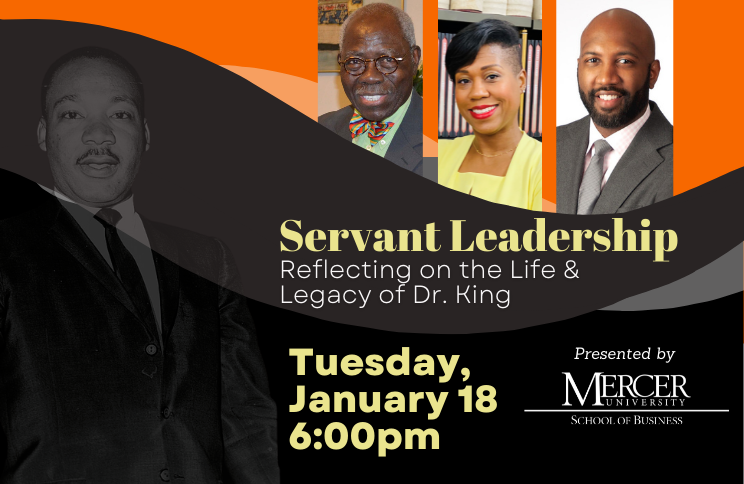 The Stetson-Hatcher School of Business (SHSB) is proud to invite you to join us on January 18 from 6-7:30 p.m. for an insightful panel discussion titled, Servant Leadership: Reflecting on the Life and Legacy of Dr. King. This event will take place virtually via ZOOM.
We are proud to welcome our esteemed panelists:
– Sam Oni, CLAS '67, Civil Rights advocate and first Black student to attend Mercer University
– The Honorable Erica Woodford, CLAS '97, Clerk of Superior Court Bibb County
– Lawrence Bell, Deputy Chief of Staff and Senior Advisor for US Senator Raphael G. Warnock
Our very own, Dr. Julie Petherbridge, SHSB Dean, will serve as the moderator.
Although President Ronald Reagan signed the Dr. Martin Luther King, Jr. Day holiday into law in 1983, it was not observed for the first time until 1986. Thus, making this year the 36th anniversary since the holiday was first observed (2000 being the first time all 50 states observed it as well). Given all our nation has endured over the last two years, it is only fitting to reflect on the journey and the legacy of Dr. Martin Luther King, Jr.
King once stated, "Life's most persistent and urgent question is, 'What are you doing for others?" That will be a key focus for our discussion. Mercer University's mission is "To teach, to learn, to create, to discover, to inspire, to empower and to serve." During our panel, we look forward to having a thought-provoking discussion on the role servant leadership has in the world today and how we should answer Dr. King's urgent question.