9.28.22 | 11:30am - 2:30pm
$10 – $14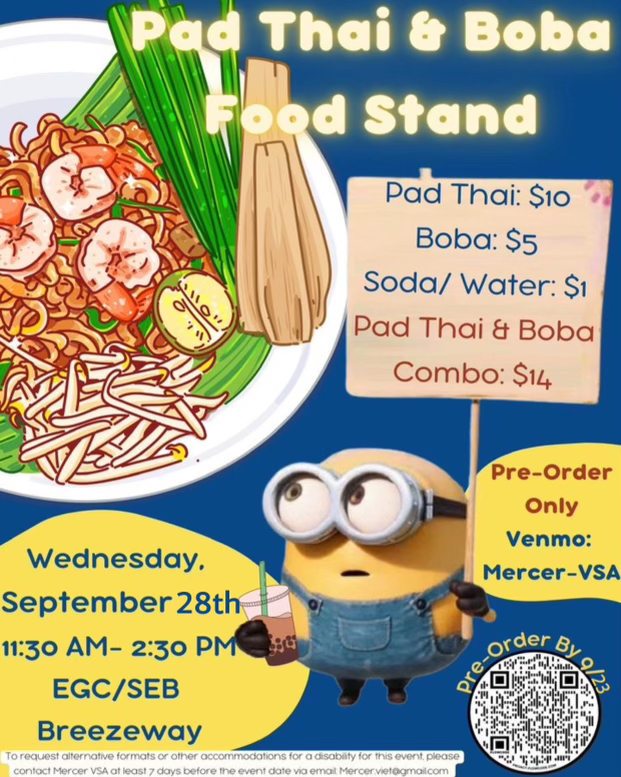 Thank you for showing interest in supporting Mercer Vietnamese Student Association!
To guarantee a perfect lunch of pad Thai, boba, and/or other drinks in between classes, studying sessions, or work, fill out this form!
𝐅𝐨𝐨𝐝 𝐒𝐭𝐚𝐧𝐝 𝐃𝐞𝐭𝐚𝐢𝐥𝐬:
– Date: Wednesday, September 28, 2022
– Time: 11:30 AM – 2:30 PM (PICK UP TIME ONLY AVAILABLE UNTIL 2 PM)
– Location: EGC/SEB Breezeway
𝐏𝐑𝐈𝐂𝐄𝐒:
– Chicken pad Thai (vegetarian option available) ($10)
– Thai Tea Boba drink ($5)
– Soda or Water ($1)
– COMBO: Pad Thai + Thai tea boba drink ($14)
** THIS ORDER FORM WILL CLOSE ON FRIDAY, SEPTEMBER 23RD @11:59 PM **
If you are faculty/staff, a delivery option is available to you! However, deliveries will only be made AFTER 2:30 PM.
𝐌𝐞𝐫𝐜𝐞𝐫 𝐕𝐒𝐀'𝐬 𝐕𝐞𝐧𝐦𝐨: @𝐌𝐞𝐫𝐜𝐞𝐫-𝐕𝐒𝐀
Venmo will be our main source of payment. If paying with cash, please have EXACT CHANGE.
If you have any questions, please put it on the second page of this form or contact us by email at mercer.viet@gmail.com, by GroupMe, or by DM on Instagram @mercervsa.
If you have any questions about our philanthropy, please visit Mercer On Mission Vietnam's website at https://merceronmissionvn.org/