3.31.23 | All Day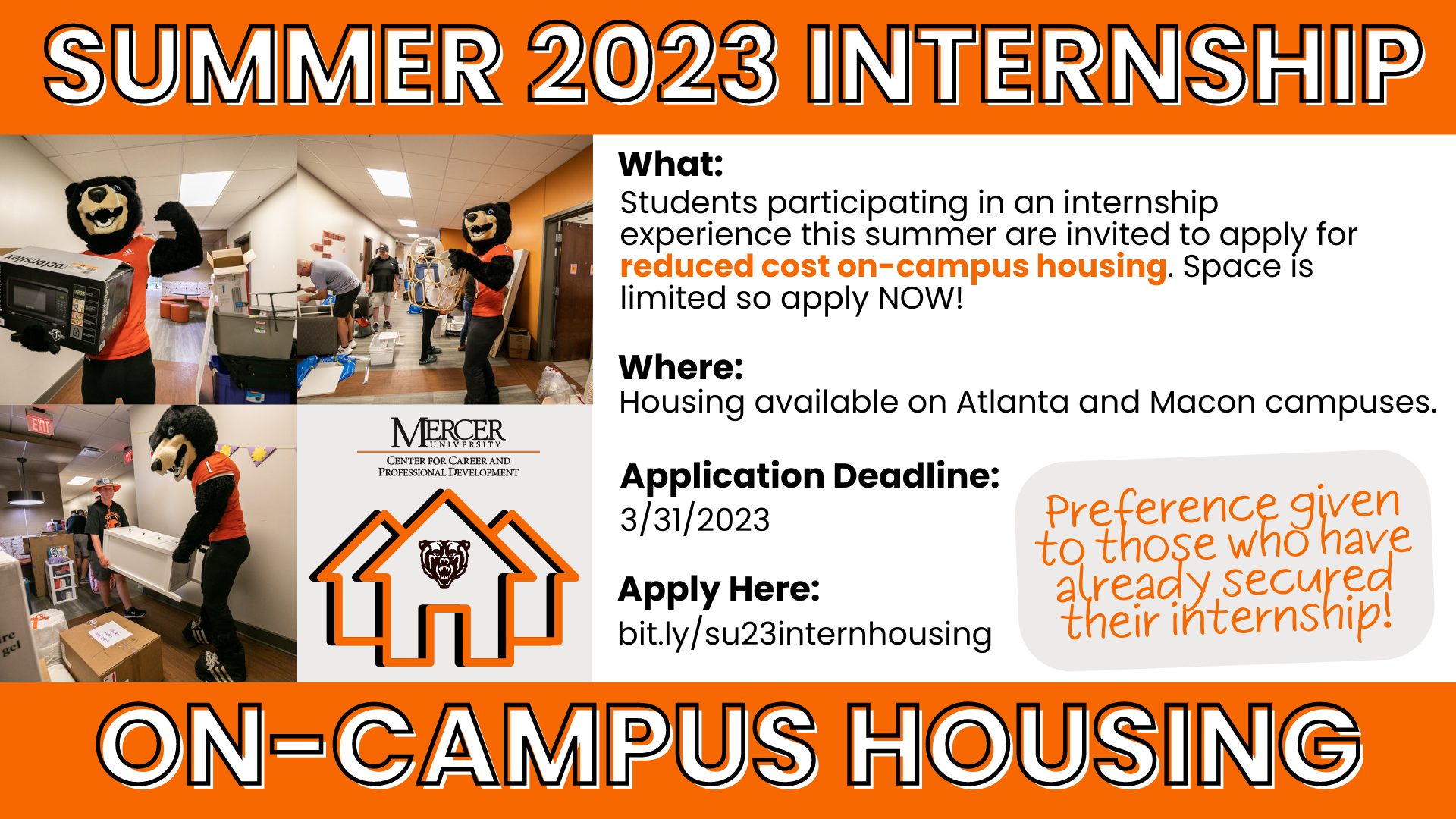 The Center for Career and Professional Development (CCPD) is proud to present the Summer Internship On-Campus Housing Program. This program provides a select number of students who are participating in summer internship experiences the opportunity to enhance their experience by participating in professional development programming with CCPD Staff and their peers. In recognition of their participation in this program, students will receive summer housing on either the Macon or Atlanta campus at a reduced rate.
Before applying, please make sure your summer experience is an internship and not a job. The following definition of an internship has been provided by the National Association of Colleges and Employers (NACE) and represents the official CCPD definition for an internship: "An internship is a form of experiential learning that integrates knowledge and theory learned in the classroom with practical application and skills development in a professional setting. Internships give students the opportunity to gain valuable applied experience and make connections in professional fields they are considering for career paths, and give employers the opportunity to guide and evaluate talent."
This is a competitive process and interested students must complete this application by March 31, 2023. Selected recipients will be notified on April 6.
NOTE:
-Students who are not selected for this opportunity may explore summer housing opportunities by contacting the Department of Residence Life.
-Students who would like to conduct summer research should contact Kevin Bucholtz at Bucholtz_km@mercer.edu for an application.
DATES:
Macon Campus
• All interns will be housed in Mercer Hall. These are 4 bedrooms, 2 bath units. Each intern will have their own bedroom, share a bathroom and common space.
• Move-in date: May 19
• Move-out date: July 30
Atlanta Campus
• All interns will be housed in the University Apartments. These are 4 bedroom, 2 bath units. Each intern will have their own bedroom, share a bathroom, kitchen and common room.
• Move-in date: May 26
• Move-out date: Aug 4
You can move in on or after the move-in date. You must move out by the date listed.